Takeaways from the Future of Money study, 2020
In 2020 we joined forces with the quantitative financial insights experts at Logica Research to contribute qualitative insights to their ongoing Future of Money study. Together we completed three rounds of research, strategically scheduled at key moments in the year.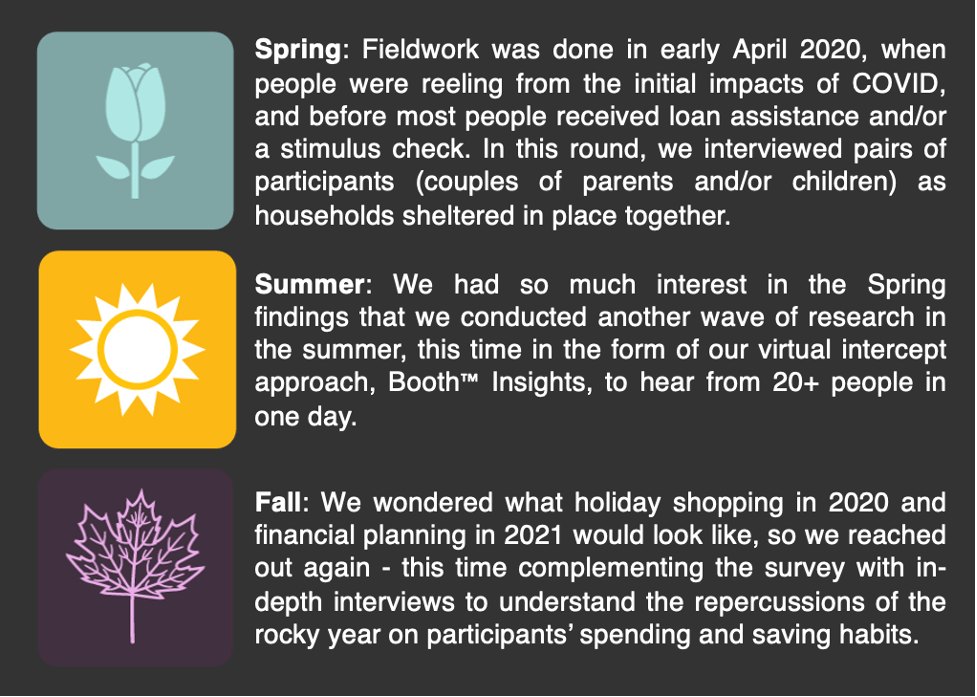 Each wave proved to be a rich time to tap into what people are thinking, feeling, and deciding when it comes to their finances. We welcomed the chance to hear what Americans were doing, thinking, spending, saving, paying, etc. in their financial lives on an ongoing basis.
It was a lesson in speed; and how more touchpoints are needed in rapidly changing times. I have rarely presented the results of a study three weeks later and had it sound outdated, but that is what happened during the report-out of the Spring wave! We ended up reaching back out to our Spring phase participants a month after our initial conversations to see how they were doing so that we could have more updated talking points with our presentation audiences over the summer. 
People's shifting needs and mindsets are changing at a pace that we may not have seen before. We must tell all the chapters of this story! And we have learned the importance of frequent touch points with our clients as well, sharing with them our COVID-era insights mantra: "More check-ins, more often!" 
Here are some of the overarching findings we learned thanks to the Future of Money study 2020, and the themes we'll be listening for in 2021's fieldwork:
Intergenerational Learning: When families were stuck in homes together this year, an intergenerational petri dish was born. Living in close quarters, with finances a concern for everyone, allowed younger generations to teach older ones about digital payment methods, and older generations imparted wisdom about planning, saving, and investing strategies. 
Digital Payments Became the Norm: Retail payments shifted out of necessity when businesses changed the way that they asked for – and accepted – payments since cash was considered "dirty" and no one was shopping in-person early in the year. We heard people figuring out how to embrace (or at least grudgingly try) digital payments, saving and dealing with their money online.
Hungry for Financial Advice: When the financial aspects of life shift quickly, participants get hungry for information from financial brands (e.g., their bank, credit cards, employer, advisor, etc.). This was welcome news to our clients in the financial space who are typically searching for relevant messaging to share with their customers! In 2020, consumers wanted information; advice on what to do with their savings, how to shift their retirement planning, and what their financial institutions were doing for their staff and the world at large.
Lifting the Taboo: We found that in 2020, both through the Future of Money study, and our other financial service projects, that participants are willing and able to talk about their financial lives in a way that they may not have been open to doing before. Taboos have slipped away from talking about finances. 
2020 vs. 2008: We compared reactions to 2020 to those of the financial crisis in 2008. In '08, if you were in a crisis, it could feel personal, embarrassing, like you were at fault if it happened to you. This time around, the crisis is happening to everyone, and participants were more open to sharing what is happening with their finances and how they feel about it because they know everyone is being affected in some way, and the economy is in the news constantly. It is an opportune time for brands to talk to people about financial topics!
Our last wave of qualitative research found optimism: People see a light at the end of the tunnel in terms of the pandemic getting better in 2021. They are more certain about what they need – money and financial relief so they can meet their goals. Some are widening the scope of what they think of as a 'gig' and are pivoting business models to see how they can leverage their existing skills now. The crisis has been a call to be more inventive, to consider what their new options are, and to determine what their new digital gig portfolio looks like for 2021.
Our team welcomes the opportunity to learn from people about their finances, as everything in our financial world is changing rapidly, and we are excited to continue this exploration in the Spring of 2021 when the next wave fields. Financial dialogs are still shifting and changing, and we want to continue to help brands tap into that conversation so that they can hear firsthand about how their category is affected throughout 2021.
Check out our discussion with Priscilla McKinney on the Little Bird Marketing podcast for a recap on our learnings from the early stages of the pandemic: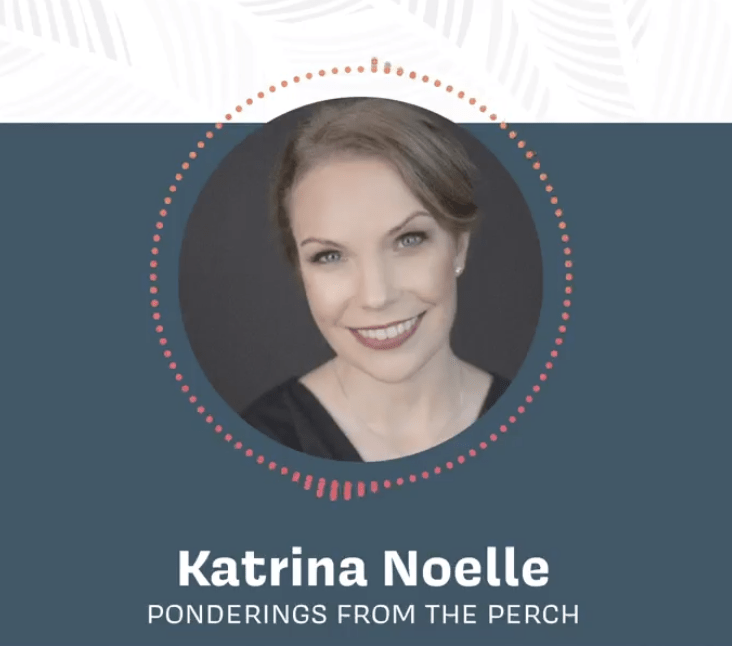 And be sure to read the eBooks from each wave here: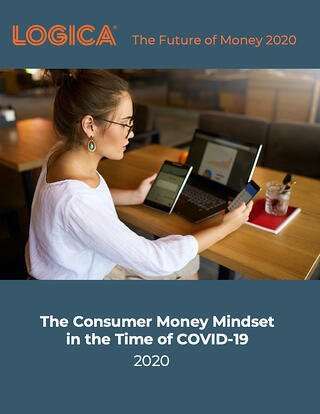 But don't just read about the study! Book a custom qualitative add-on by adding Booth® Insights to any wave in 2021 for just $10K. Get customized insights from our audience on topics, brands, products, or concepts. We can strategically invite qualified participants based on their responses to the quantitative component.