Resources to Watch
WATCH recorded webinars and presentations if you missed them live.
Data quality has been an increasing industry focus in recent years, but there has traditionally been more emphasis on online sample fraud and its impact on quantitative studies. However, it's not just a quant problem; it's widely affecting mixed methods projects and qualitative research. And no matter where it comes from, incidents of fraud are much more up-close and personal in qualitative research than as a line item in a quantitative excel file.
This talk walks through KNow's Participant Integrity Initiative to present not only the issue facing the industry, but thought starters on preventative practices and proactive solutions.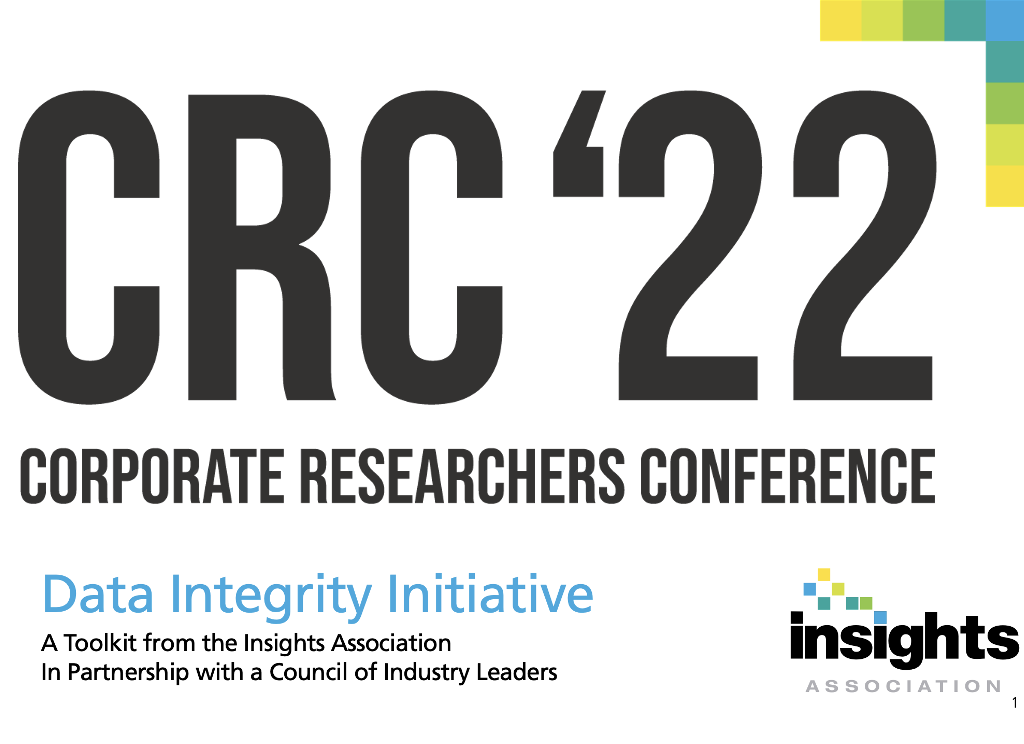 Katrina is a founding member of the Insights Association DII Council; raising awareness of data integrity and quality throughout the industry.
At the Corporate Researchers Conference in 2022, the Council unveiled their Data Integrity Toolkit. Take the pledge to do your part to protect data quality by downloading the toolkit HERE.
And watch the video of the panel Katrina moderated at the unveiling to hear more about the industry-wide effort!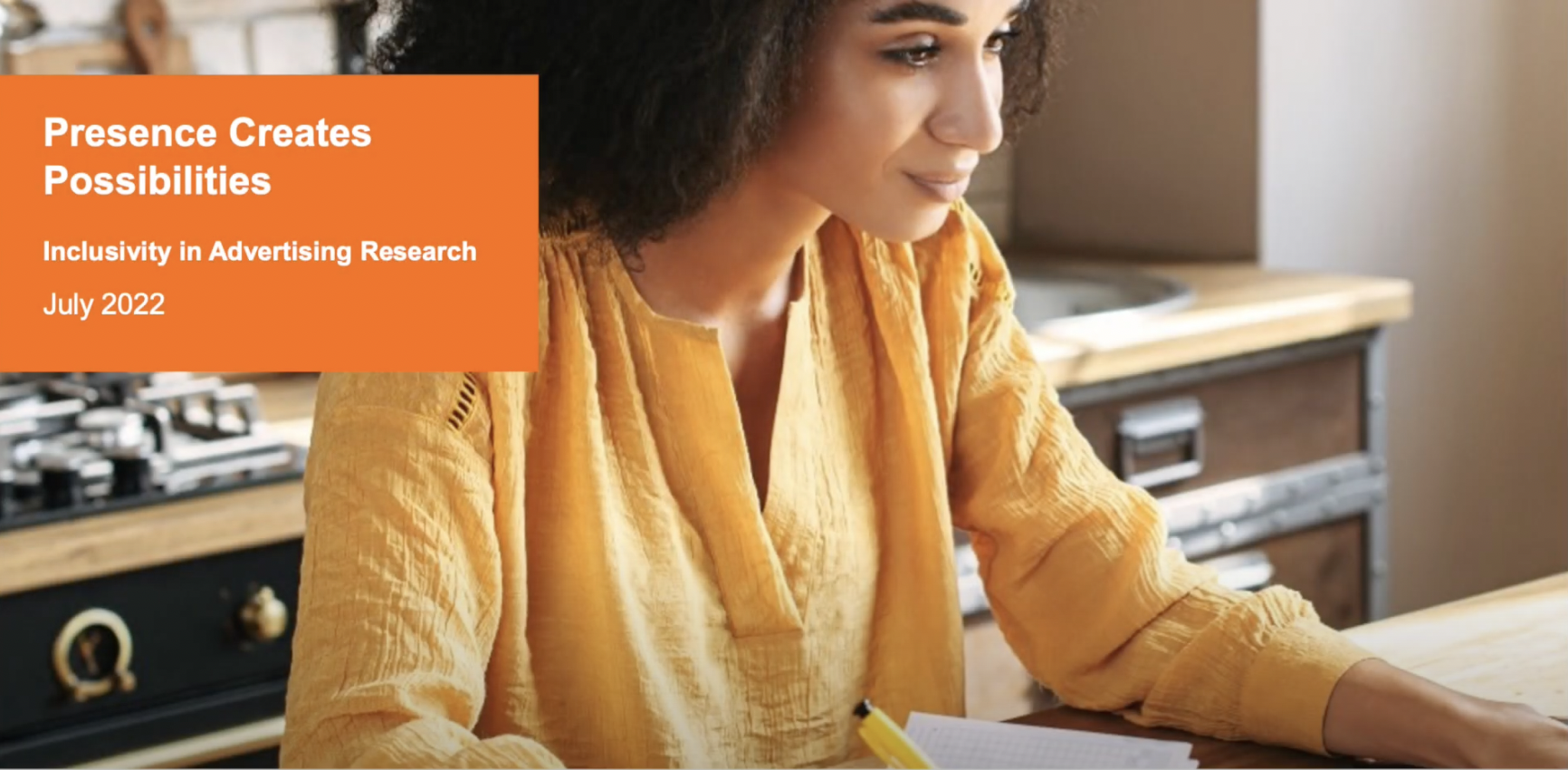 Presence Creates Possibilities 
Katrina Noelle, President of KNow Research, and Kerry Sette, VP of Consumer Insights and Research at Voya Financial, share specifics on how researchers can be intentional with inclusion at the Quirks Event NY in their presentation: "Presence creates possibilities: Inclusivity in advertising research."
Learn how to ensure underserved groups – including diverse viewpoints – are continuously represented, considered, monitored and measured.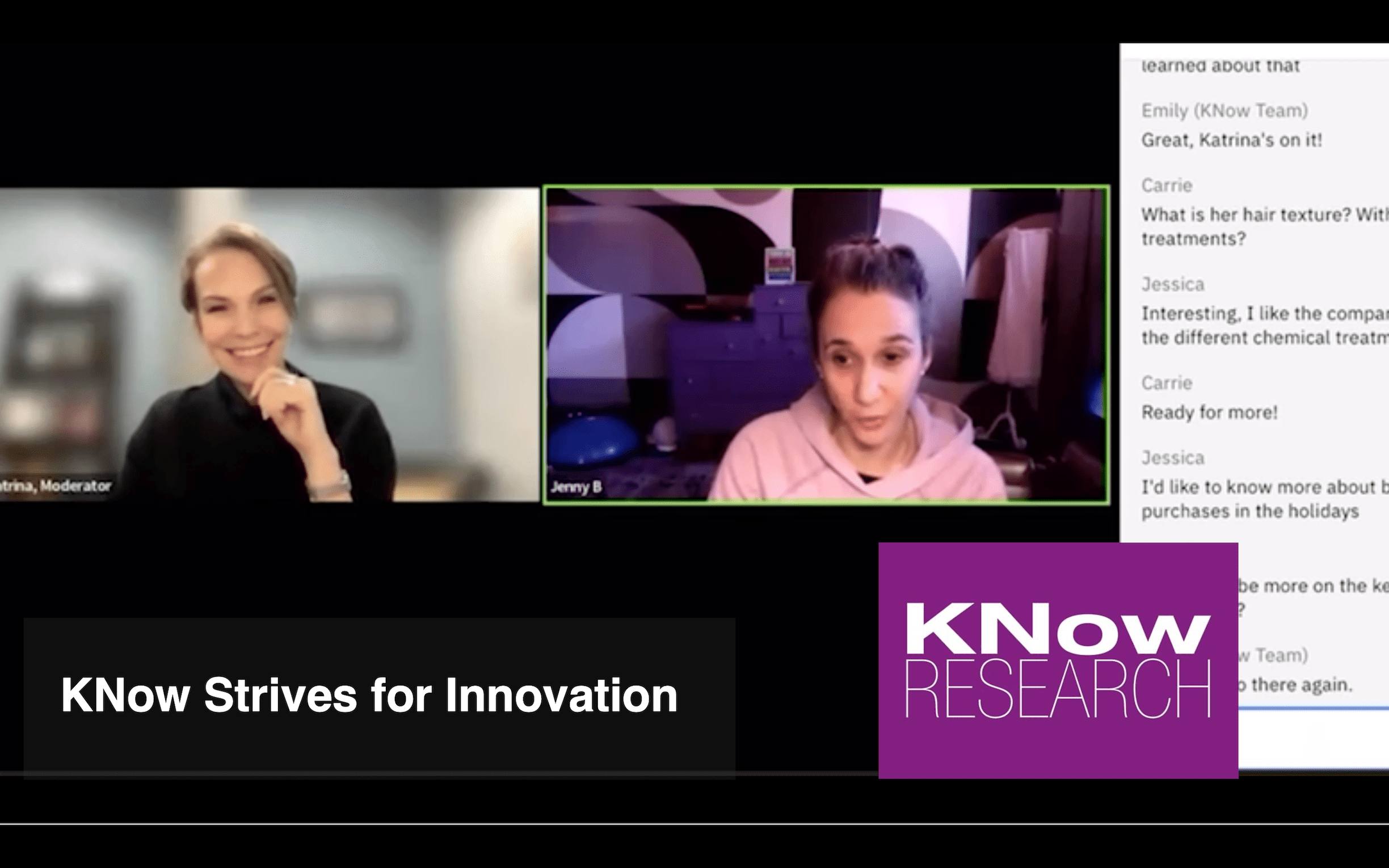 KNow Strives for Innovation
Our team at KNow Research has been striving for growth, both within our organization, for our clients, and for the insights industry at large. One way that we grow is by doing our part to help propel our industry forward with "innovative and agile approaches."
Learn how we're innovating in qualitative research!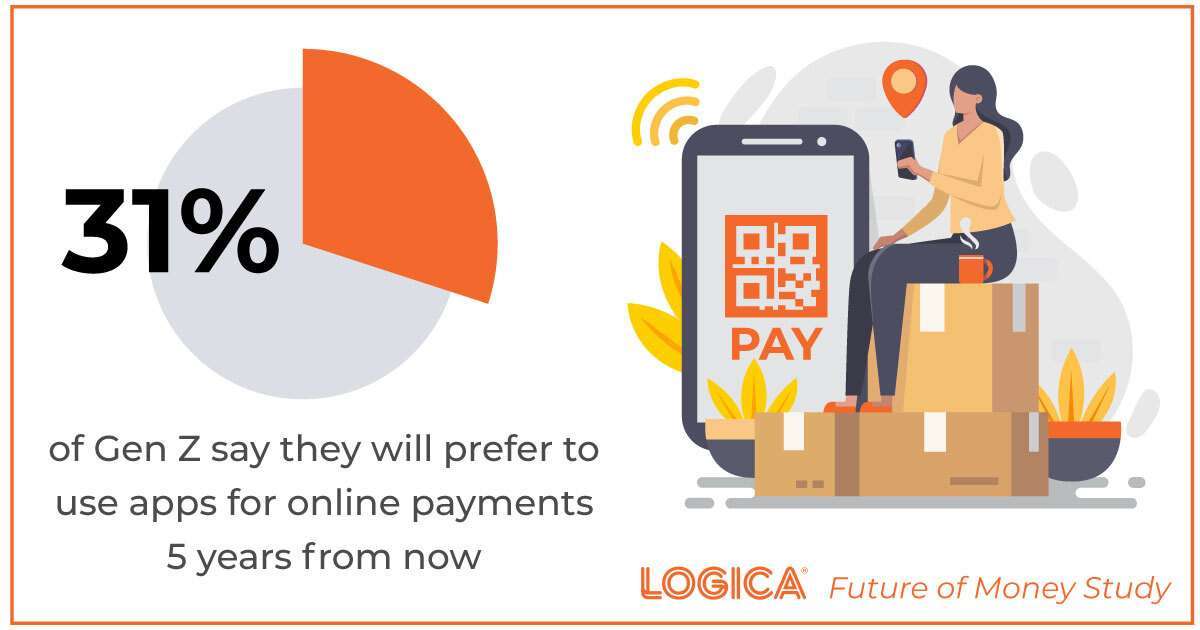 Katrina Noelle of KNow Research and Lilah Raynor of Logica Research discuss future-oriented insights to help design and deliver financial products for the next generation.
In this quick-hit 20 minute webinar, we focus on Gen Z by highlighting key insights specific to them from our Logica® Future of Money Study. This research is coupled with sharp conversations with members of this resourceful generation on how they work, on their side-hustles during tough times, on how they figure out how to manage payments and use credit, and why they are already investing.
Be inspired by "Money Conversations: Gen Z on the Future of Money" to design and deliver to this newest generation!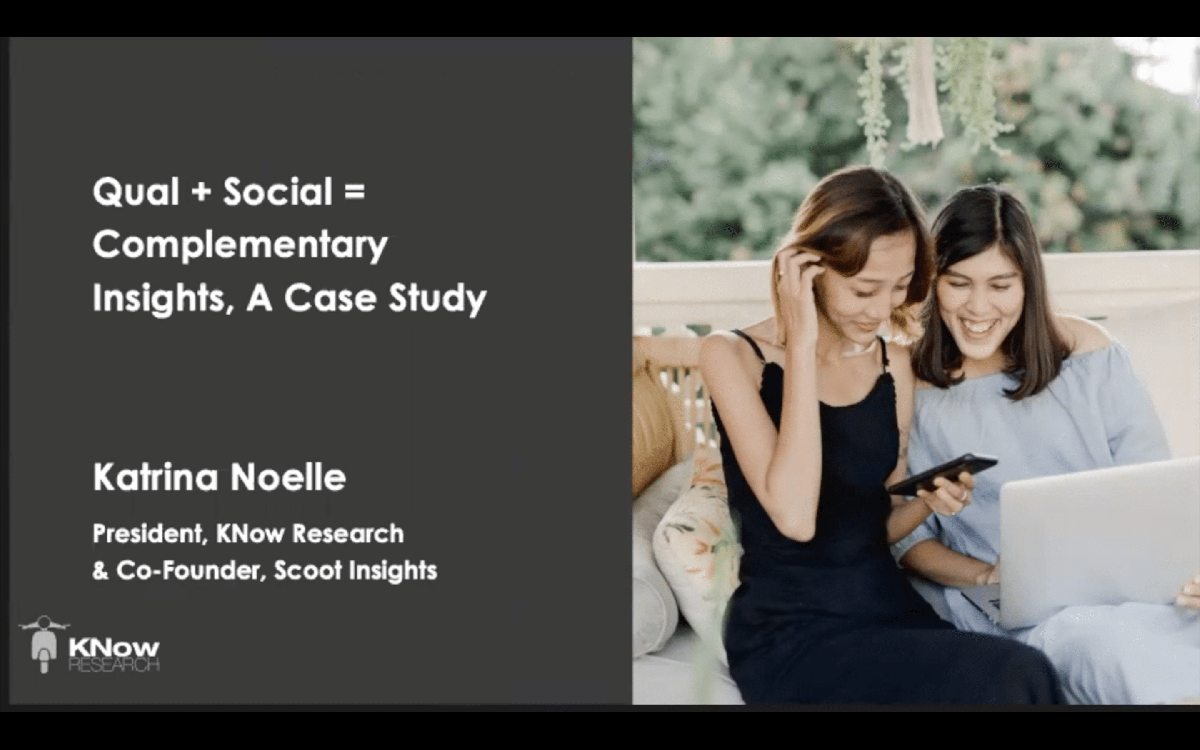 #NewMR Festival Presentation: Qual + Social = Complementary Insights, A Case Study by Katrina Noelle.
Learn how to combine qualitative insights with social media listening to give brands a 360-degree view of their target audiences' needs and ways to meet them digitally. KNow Research used a combined, complementary insights strategy to help The Financial Gym, a personal financial services company that takes a fitness-inspired approach to their clients' finances. They were looking to expand their digital offering when in-person financial coaching (the cornerstone of their offering) was not possible in 2020.
If you are an insights professional interested in learning about combining techniques to inventively solve problems, join us for this tale of two methodologies.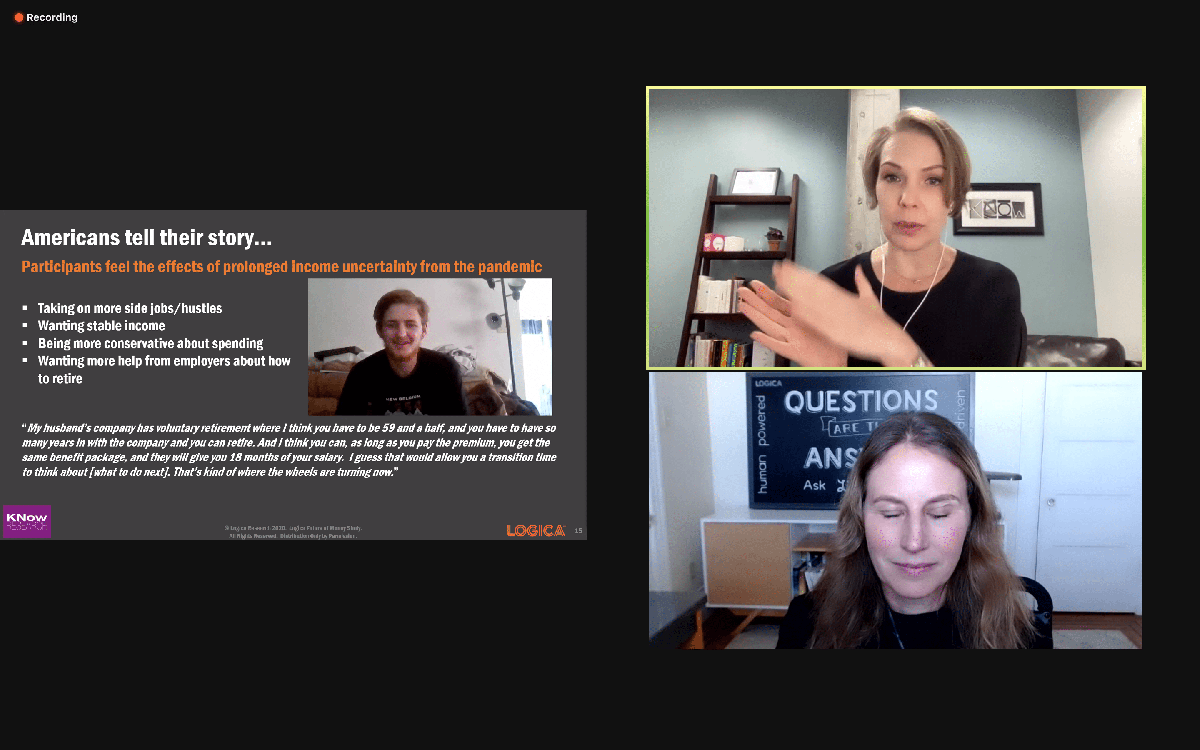 We are proud to be Logica Research's qualitative partners on their ongoing Future of Money study. 2020 was a roller coaster of a financial year, and our teams rose to the task, running an extra wave in the Summer and a post-election pulse survey in the Fall.
Watch the webinar recording of Consumer Money Mindset in the Time of COVID-19, 2020 style.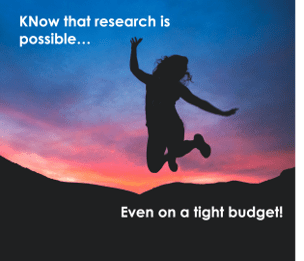 KNow Research makes it a priority to give back to the community at large on an annual basis.  Each year, we choose a non-profit organization in need of assistance with gathering insights but without the budget to accommodate a full project.
We put together this free webinar for anyone interested in how to generate insights on a small budget!