Booth® Insights – Online or In-person Qualitative Intercepts
We're celebrating the 2nd anniversary of our trademarked intercept methodology; Booth® Insights.  Thank you to all our supportive clients who have made this methodology a cornerstone of their insights process. Our clients, our team and our participants all enjoy the ability to connect – digitally or in-person – authentically in-the-moment.
Get insights on a topic you're curious about in our trademarked pop-up, bookable wherever your customers' physical or digital foot traffic takes them:
You pick a topic of interest
We develop a Topic Guide based on your topic
We intercept n~20 participants authentically and organically per day
We conduct a series of 15-minute conversations
You receive a written Insights Summary of key themes and Video Playlist of key moments that bring the themes to life
Understand target audiences' expectations, experiences, and ideas for improvement, gauge brand awareness, reputation, and drivers and barriers and/or develop strategies for customer retention and growth.
Booths are great for concise project objectives like:
Checking packaging or messaging for red flags before production or distribution
Complimenting tracking studies with qualitative conversations
Testing in-store signage or displays before launch
Jumping into the customer journey while it's happening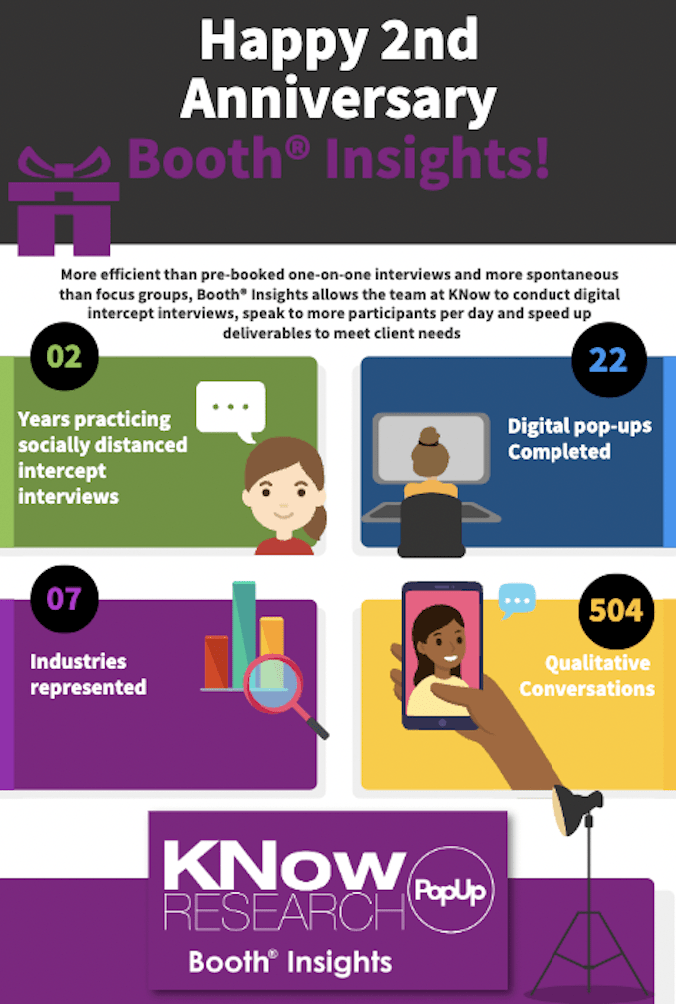 Got another idea for how you might benefit from a pop-up? Let us know at admin@knowrearch.com